Skip Parsons' Riverboat Jazz Band -
Rich Skrika, part 2
by Cliff Lamere 31 Aug 2006
Photos by Cliff Lamere
At the Fountain Restaurant, 283 New Scotland Ave., Albany, NY.


Richard Stephen "Rich" Skrika, of Wilton, NY - keyboard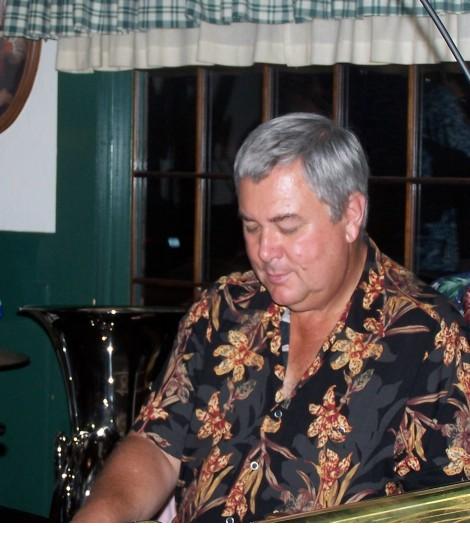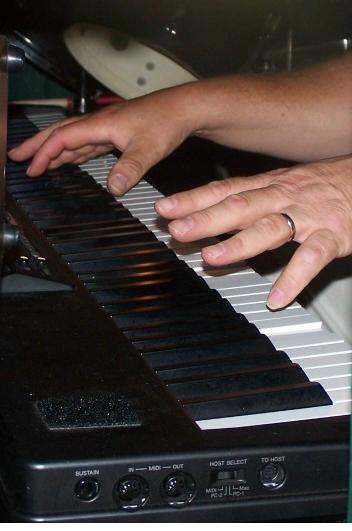 Rich Skrika at the keyboard (2006 Aug 11)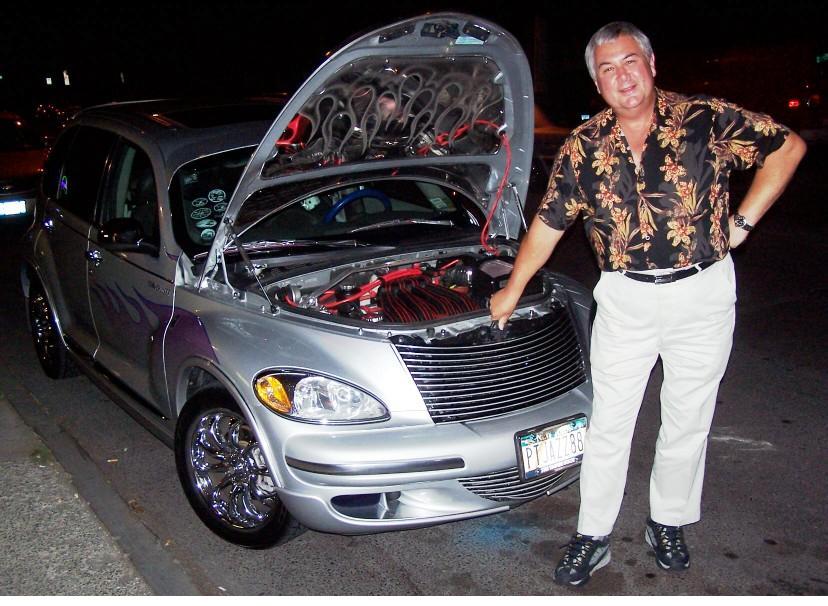 Rich Skrika is proud of his PT Cruiser, license plate PT JAZZ 88. The underside of the hood is mirrored.
The engine is so clean that it looks like it just came off the showroom floor. (2006 Aug 11)
Here is a list of the many modifications that Rich has made to this gem.
2001 Limited PT Cruiser Accessories and Modifications
Interior Trim
● Custom Lighted Skull Shift Knob
● Carbon Fiber Dash, Console, Armrest and Door Trim
● Chrome Dash "Eyebrows" Trim
● Burlwood Dashboard Trim with Interior Door Handle Accents
● Various Chrome Accents (Knobs, Bezels, Door Locks, Speaker Rings, Console, etc.)
● Star Tech Billet Pedal Covers (Clutch, Brake, Accelerator)
● Wheelskins Leather Steering Wheel Cover and Matching Shifter Boot
● Custom Accessory Switch Panel
● C ustom Jazz Band Window Etchings - read and sides
Sound
● Chrysler 6-Disc Under-Seat CD Changer w/Remote Control
● MOPAR 80-watt Subwoofer
Exterior Trim
● Chrysler Ground Effects Package (Front and Rear Air Dams, Side Skirts, Wheel Lip Moldings)
● Chrysler Flame Accent Package (Blue and Purple)
● Chrysler Rear Spoiler
● Chrome PT Cruiser License Plate Frames w/Lighted Rear Frame
● Rear Taillight Lens Covers (Flashing "PT") and Custom 3rd Brake Light Emblem
● Chrysler Lower Door Panel Chrome Spears
● Chrome Rear View Mirror Covers
● Stull Chrome Horizontal Billet Aluminum Grille
● Chrome "Belt Line" Trim
● Pneumatic Chromed Hood Strut and Rear Door Supports
● Flamed Front and Rear Door Sill Plates
● Chrome Front and Rear Bumper Inserts
● Painted Bumpers
● Chromed Wiper Arms with Custom Silver/Purple Silicone Wiper Blades
● Chrome Door Edge Protectors
● Custom Etched Rear and Side Windows (Traditional Jazz Scenes)
● Flamed Under-Hood and Cowl Chromed Dress-Up Panels
● Under-Car Programmable 7-Color L.E.D Lighting w/Remote Control & Music Interface
● Lighted Hood Emblem/Chrome Washer Nozzles
● Various Chrome Engine Compartment Trim Items
● TYC Custom Tail Lights
Engine/Performance
● Kenne Bell Performance Optimized Computer
● Borla High Capacity Air Intake/Filter System
● Borla SS High Performance Free-Flow Exhaust System
● Borla High-Performance Aluminum Exhaust Header System (4-2-1)
● Bright-Red Hose Technologies Premium Silicone Vacuum Hose/Engine Dress Up
Handling
● 17" Chrome Alloy Wheels (iCW Racing) w/Low Profile Performance Tires
● Suspension Lowering Kit (1" Overall) w/Springs, Struts and Sway Bars
● Slotted Performance Rotors and "Green Stuff" Low-Dust Brake Pads
● Freedom Design Chrome Front Strut Tower Brace
● Hurst Competition Short-Throw Shifter Conversion

Biography of Rich Skrika
Rich Skrika can be seen in other photos taken by Cliff Lamere:
Skip Parsons' Riverboat Jazz Band 2
Skip Parsons' Riverboat Jazz Band 3
Skip Parsons' Riverboat Jazz Band 4
See Rich Skrika in photos on other webpages made by Cliff Lamere: