Rich Skrika, a Jazz Biography
by Rich Skrika March 2007
Webpage by Cliff Lamere 12 Mar 2007


Richard Stephen "Rich" Skrika, of Gansevoort, Saratoga Co., NY
Rich Skrika – Piano
Rich has been playing professionally since he was 13 years old, starting on accordion in a 5-piece combo with his buddies back in Perth Amboy, NJ where he grew up. [photo below] He first became interested in traditional jazz after listening to radio broadcasts out of NY City. "There was plenty of good jazz on radio in the fifties and sixties" recalls Rich. Deciding that this style of jazz was the real thing, Rich started collecting records and doing lots of listening to what the greats of the time were doing. "I really enjoyed the melodies, harmonies, rhythm and free-wheeling sound of this style of jazz. The ensemble sound is what attracted me to the music in the first place and still is what grabs my attention the most, even now", says Rich.
While attending college in the late sixties, Rich taught himself the piano while pursuing a Mechanical Engineering degree at RPI. His first piano playing job was intermissions at the Hendrick Hudson Hotel in Troy opposite Carl Lunsford's jazz band. He then moved over to At The Hat in Albany, playing with the traveling version of Your Father's Mustache banjo band out of Boston. It was here that he heard Skip Parsons Riverboat Jazz Band for the first time. After a few visits, he finally got up enough nerve to talk with Skip and a few of the other guys (after all, they were older and far more experienced players of this "Dixieland Jazz"), found that they all shared the same musical interest and gladly accepted Skip's offer to join the band right after getting married in 1971. Over the next five years, Rich learned how to play "band piano" following Skip's advice and encouragement. During this period, there were piano-banjo stints at the local Shakey's Pizza Parlor and a place called The Fountain where the RBJB still plays it's monthly gig, more than 25 years later!!
Rich was transferred to the Detroit area in late 1976 where he spent the next 3 years away from Skip and the RBJB, but not away from jazz. While in Detroit, he played with The New Imperial Jazz Band at their Saturday afternoon sessions in Windsor, Canada and got to know and play with most of the "jazz guys" in town including Tom Saunders, Jim Dapogny, Mother's Boys, Mike Montgomery, Paul Temple, Ray Heitger's Cakewalkin' Jazz Band from Toledo, Ohio and other lesser known, but high quality, players.
After returning to the Albany area, Rich rejoined the RBJB in late 1980 and remained with Skip for the next eight years. "I've always thought of the piano as a rhythm instrument, which is why I prefer a "strong left hand" approach to playing. Keeping the left hand going in a "stride style" just adds to the rhythm and keeps things moving along at the right pace", says Rich. "I like being part of the rhythm section and playing behind the horns", he adds. Along the way, Rich started expanding his repertoire of tunes and includes the verses to most of the songs, at least as many as he can find. "The verse actually tells the story and is often neglected. And, the verse is usually quite different than the more familiar chorus, which significantly adds to the flavor of the tune", says Rich. He now has quite a collection of early jazz tunes and recordings which keeps expanding as he finds "new" material. As far as Rich is concerned, there is no other kind of music and that's just fine with him!!
Rich went off on his own during the nineties playing with his own band for a while and also with other groups in the area. In early 2006, he and Skip got back together and the association continues to this day. "Glad to be back", Rich says.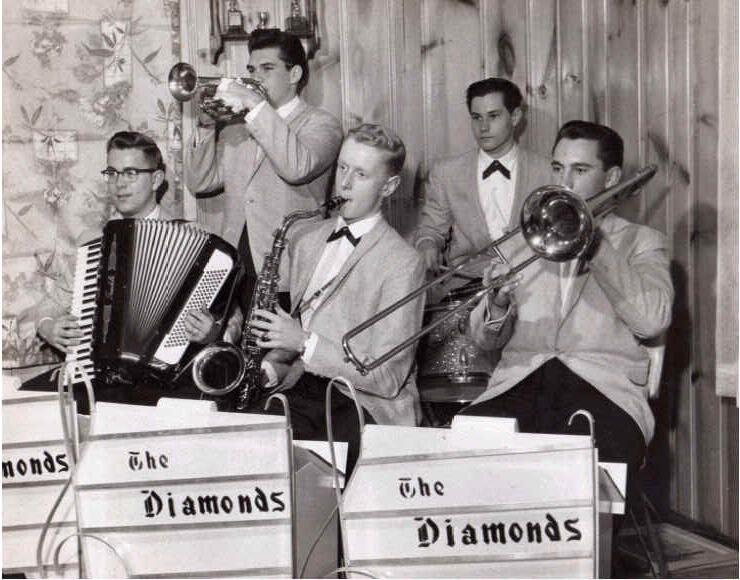 Perth Amboy, New Jersey, about 1962. The first band in which Rich played.
Rich Skrika (accordian), (cornet), (alto?? saxophone), (drums), (trombone)
"We played together for about 7 years doing mostly weddings and private parties back then – no clubs as we were too young!! You'll notice that we did have the right instrumentation for playing some Dixieland, which we did at my insistence back then, though probably not very well since we were not yet real accomplished musicians."


Rich Skrika can be seen in other photos taken by Cliff Lamere:
Skip Parsons' Riverboat Jazz Band 2
Skip Parsons' Riverboat Jazz Band 3
Skip Parsons' Riverboat Jazz Band 4
See Rich Skrika in photos on other webpages made by Cliff Lamere: