Johnny Peppers &
the Contrabass Saxophone
by Cliff Lamere 17 Jun 2010, rev. 19 Feb 2011


Johnathan "Johnny" Peppers, of Water Gap, New Jersey plays bass sax, soprano sax,
and contrabass sax. He is also known as Johnny Pep, and Johnny Peppercraft.
Photos from various sources.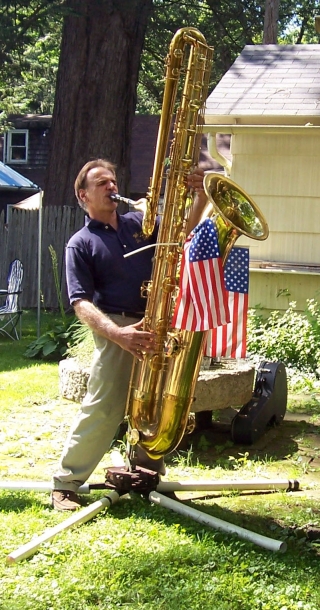 (photo contributed by Johnny)
This instrument is believed to have been made in the 1970s in Milan, Italy by the ORSI company. Johnny says, "It plays the down to the lowest CONCERT D flat on the piano, or about 32 cycles per second, and thats low!"
Below is a much larger version of the same photo. It will allow you to see more details of this fabulous instrument.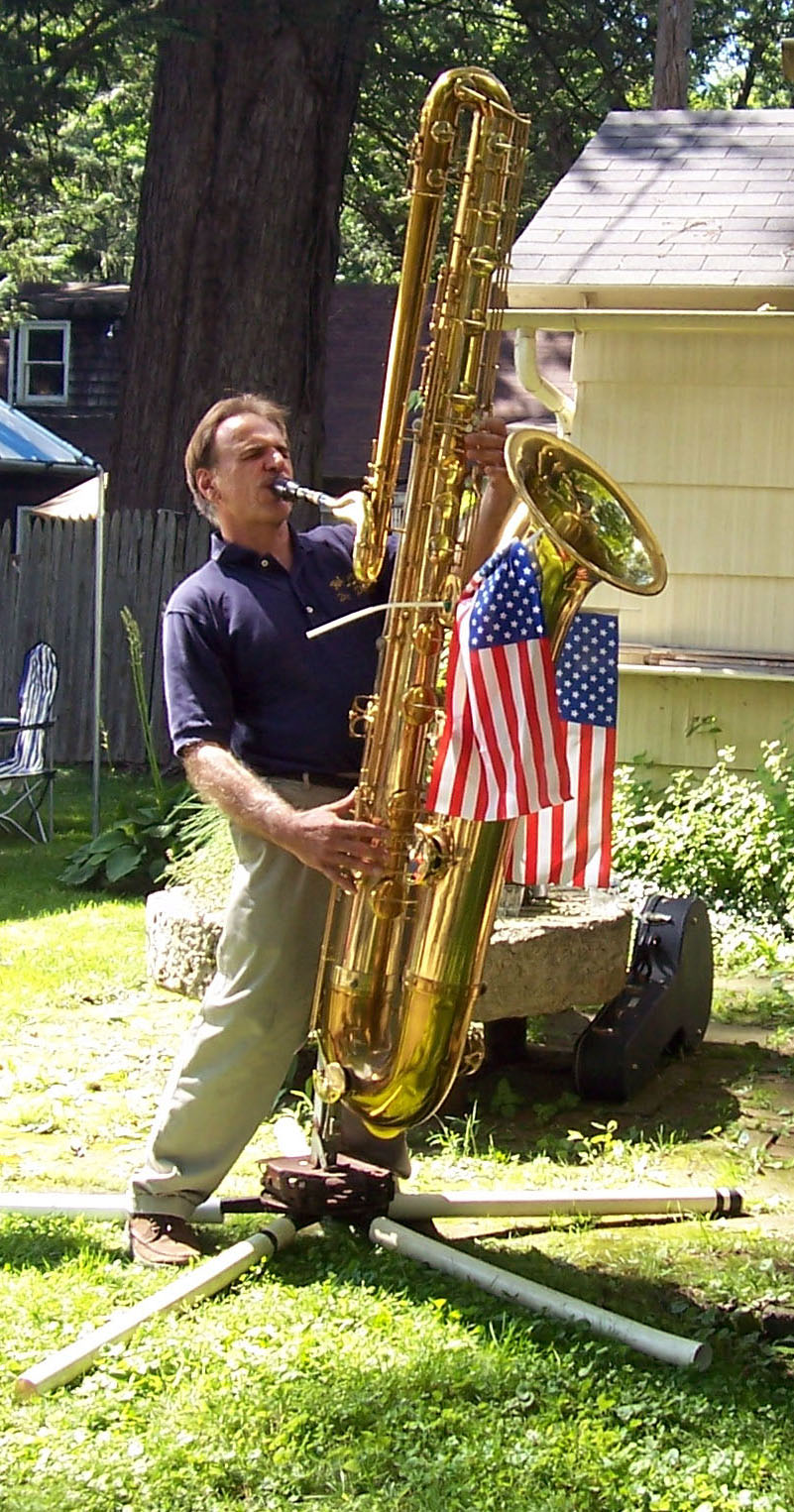 Johnny Peppers playing a contrabass sax
"The contrabass saxophone is the lowest-pitched extant member of the saxophone family proper. It is extremely large (twice the length of tubing of the baritone saxophone, with a bore twice as wide, standing 1.9 meters tall, or 6 feet four inches) and heavy (approximately 20 kilograms, or 45 pounds), and is pitched in the key of E♭, one octave below the baritone. Approximately 25 examples of this instrument exist in the world today including recently made instruments and a handful of surviving examples from the saxophone craze of the 1920s by Evette-Schaeffer and Kohlert. The worldwide number of existing contrabass saxophones is currently growing by 4 or 5 instruments each year." [Source. Read an interesting article about this instrument.]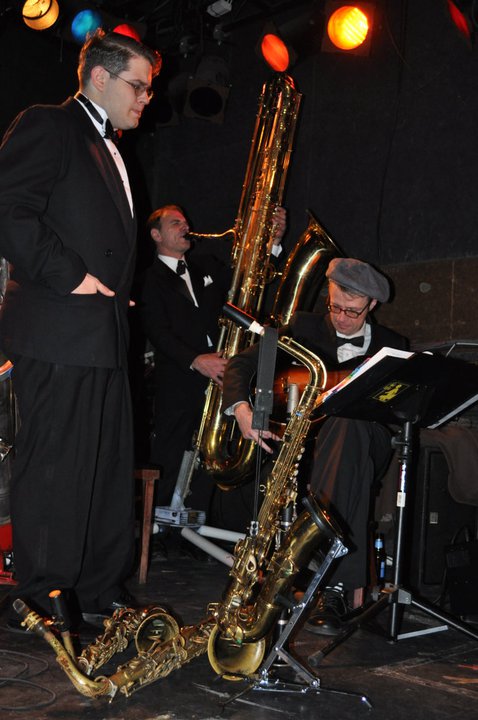 Aaron Johnson (shown with tenor sax, c melody sax and alto sax), Johnny Peppers (contrabass sax),
Paul Salter (guitar), members of Drew Nugent's Midnight Society.
"This gig was called Dances of Vice: The Secret Life of Toys in NYC."
Johnny Peppers played the bass sax and contrabass sax.
"The contra is not easy to play. Yet it's no big problem to solo on,
but to play bass notes nonstop as required is a workout... because the
contrabass takes so much air to sustain each note"
Listen to many members of the saxophone family, including the soprillo, sopranino, soprano sax, alto sax, tenor sax, baritone sax, bass sax, and the tubax.

To contact Johnny Peppers:
Email: peppersax@gmail.com
Phone: 908 489 0438
"I play with: Dr. Dubious and the Agnostics, Chuck Slate, Steven Dibonaventura, Mike Kuehn, Dave Greer's Classic Jazz Stompers (from Ohio), Drew Nugent & the Midnight Society, and Skip Parsons' Riverboat Jazz Band."

Many photos of Johnny Peppers can be seen on this website:
Johnny Peppers on bass sax (part 1)
Johnny Peppers on bass sax (part 2)
Johnny Peppers on contrabass sax (part 1)
Johnny Peppers on contrabass sax (part 2)
Johnny Peppers with Clarinet Marmalade
Skip Parsons' Riverboat Jazz Band 5
Johnny Peppers in photos on other websites.
_____________________________________________________________________________