In Memory of
Helen Lynn Pratt
(1923-2009)

Helen Lynn Pratt, jazz vocalist, lived March 27, 1923 to October 2, 2009. Two obituaries below give some of the details of her life.
The two photos below were taken September 19, 2004 at Brunswick Greens in the Town of Brunswick, Rensselaer Co., NY. She was singing with the Skip Parsons' Riverboat Jazz Band, that day. Additional photos of that concert are online.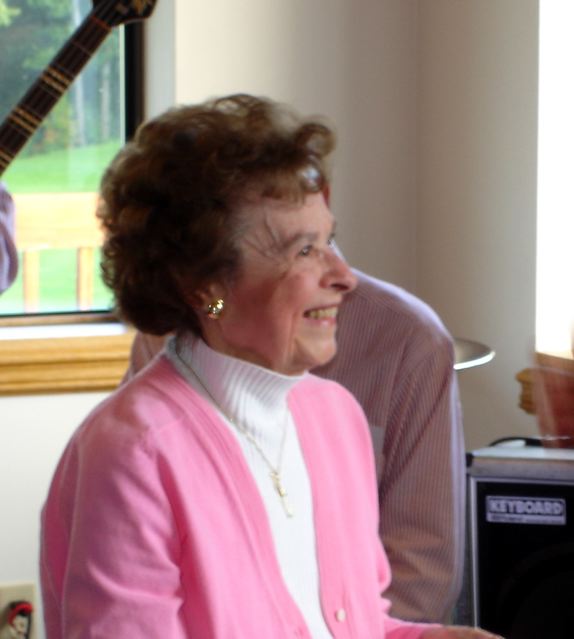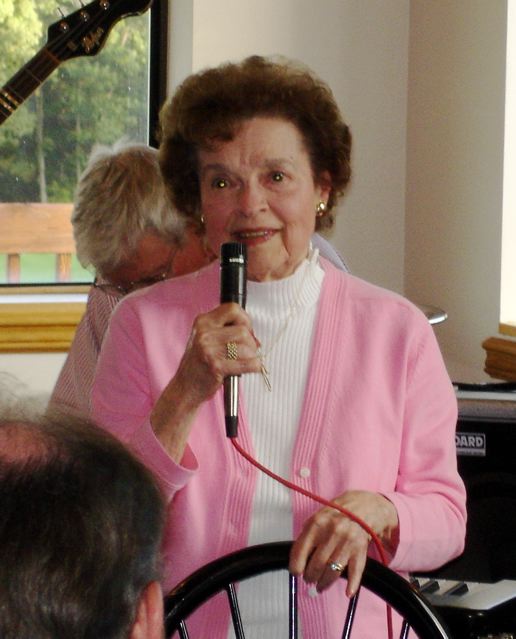 OBITUARIES
Pratt, Helen
Pratt, Helen -- SCHENECTADY

Born in Schenectady, N.Y. March 27, 1923, daughter of the late Nicholas and Anna (Mastrianni) Pasquini, is at rest Friday, October 2, 2009 after bravely battling Parkinson's and Lupus.
Helen Lynn (as she was known to many) was a gifted singer whose career started at the age of 16 when she won a competition to sing with legendary drummer Gene Krupa. She continued singing with several bands touring the country on the RKO circuit with such celebrities as Jackie Gleason and the Three Stooges. After returning to Schenectady, she met her husband Norman Pratt. Settling in Schenectady, Helen became a regular performer on WGY afternoon showcase and then went on to WRGB to sing with Garry Stevens "After Six-Seven" on the Earl Pudney Show. While raising her family and working for the State of NY she continued singing with several local musicians including her husband Norm (trombonist) with "Skip Parson's Riverboat Jazz Band". She and Norm worked with Skip for over 20 years. Helen was proud to have been honored over the years with Lifetime Achievement Awards recognizing her music career. She was given a special Mother's Day gift when Dan DiNicola of CBS6 featured her as she and her daughter Colleen released a CD of their duets.
Helen was predeceased by her loving husband, Norman; her sisters, Baby Luisa and Mary Parillo. She is survived by her daughters, Noreen Pratt, Mary Ann Pratt-Stark and her husband Randy, Patty Fusco and her partner Bob and Colleen Pratt (Bardascini) and her partner Tom. Helen was adored by her five grandchildren, Mike and Ashley Fusco, Chris, Nick and Luke Stark; her sisters, Louise (Thurston) Sack and Rita Cohn and sister-in-law, Marlene Pachucki and several nieces, nephews and cousins. Helen's family would like to thank her wonderful doctors, caregivers, especially Eileen and Suzanne. A special thank you to Jan and the incredible staff of Community Hospice.
Family and friends are invited to calling hours for Helen which will be held Tuesday, October 6, from 5 to 8 p.m. at the DeMarco-Stone Funeral Home, 1605 Helderberg Avenue, Rotterdam and also to a Mass of Christian Burial to be held Wednesday 11:30 a.m. at St. John the Evangelist Church, 812 Union Street, Schenectady. Burial will follow in Most Holy Redeemer Cemetery, Niskayuna. In lieu of flowers contributions in Helen's memory may be made to Community Hospice of Schenectady, 1411 Union St., Schenectady, NY 12308.
Published in the Albany Times Union from 10/4/2009 - 10/5/2009
Pratt, Helen Lynn
Pratt, Helen Lynn -- SCHENECTADY
Helen Lynn Pratt, 86, at rest Friday, October 2, 2009, surrounded by her loving family.
Beloved wife of 45 years to the late Norman H. Pratt (1994); beloved mother of Noreen Pratt, Mary Ann Pratt-Stark, Patty Fusco and Colleen Pratt (Bardascini).
Complete funeral arranagements will be published Monday.
Published in the Albany Times Union from 10/4/2009 - 10/5/2009