Tim Coakley, a short biography
by Skip Parsons
Webpage by Cliff Lamere 25 Feb 2006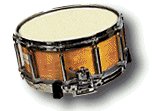 _______________________________________________________
Bio by Skip Parsons
Timothy Nicholas "Tim" Coakley
Drums
Tim Coakley was born in Utica, N.Y. He grew up listening to some of the beat local musicians, including tenor saxophonist J.R. Montrose, trumpeter Sal Amico, bassist Sam Mancuso and drummer Ronnie Zito.

Mostly self taught, Coakley listened to all the local drummers in emulation. His first job was on a set of borrowed drums at Utica College.

After learning the basics of drumming, Tim began playing with local musicians in & around the Utica area, including tenor saxophonist Chick Esposito.

In 1974 he moved to Schenectady, where he was asked by promoter Bob Rosenblum to be part of the rhythm section for legendary swing trumpeter, Doc Cheatham. After that, he worked with Doc on several occasions. These jobs were followed by appearances with tenor saxophonist Buddy Tate, pianist Dill Jones, and trombonist Vic Dickinson. Tim also played at the Van Dyck Restaurant & jazz club in Schenectady with guitarist Herb Ellis, as well as several engagements with Benny Harris.

In the later 70's, Tim was asked to join Skip Parsons & his Riverboat Jazz Band, where he was a regular for about a year (he still remains as a popular substitute with the band). After that year, it was many free lance jobs with the Capital District's finest players. This included trumpeter Mike Canonico, guitarist Jack Fragomini, tenor saxophonist Leo Russo, and a score of others.

In the early 90's Tim formed a trio with Skip Parsons & Rennie Crain. The three had played together often in many combinations, and found they had a compatible musical continuity. This trio played at Lisa's & the Glen Sanders Mansion, in Schenectady, as well as Savanah's in Albany, and Nine Maple Ave in Saratoga Springs. Other numerous appearances include several for Jazz on Jay Street in Schenectady. An evening with the Tim Coakley Trio means a super evening of classic jazz, the great tradition of Louis Armstrong, Benny Goodman, Bix Beiderbecke, Earl Hines & more. All of which the band features. The music of the trio comes from the classic period of traditional jazz and swing. They are liable to play an old jazz tune from before world war I, a Benny Goodman sextet number, an Ellington tune or something from the Fats Waller book. The group aims to swing, and each person in the trio is dedicated to that. The basic elements of good music are included here; melody, harmony & rhythm. Solos are a means to an end, and the end is to swing - the unified collective kind of swing that marked the great groups & performers of the classic jazz era.

Another of Tim's attributes is his knowledge of the music in general. The Tim Coakley Jazz Show on public radio is a very popular item on the Capital District menu. Give a listen; FM 90.3 Saturday nights.

Tim Coakley can be seen in other photos taken by Cliff Lamere:
Skip Parsons' Riverboat Jazz Band
Skip Parsons' Riverboat Jazz Band 2
Skip Parsons' Riverboat Jazz Band 3
Tim Coakley can be seen in other internet photos:
The Tim Coakley Jazz Show - on WAMC